Con el fin de satisfacer la demanda actual de tratamiento de PFOS/PFAS, H&T ha colaborado con expertos para desarrollar opciones, incluyendo el carbón activado granular y el intercambio de iones. Dependiendo de la química del agua cruda y de los componentes que compiten en ella, cada una de estas opciones de tratamiento puede ofrecer ventajas en términos de eficacia y eficiencia sobre la otra.
The System Design
In both GAC and Selective Ion Exchange Resin Processes, rather than a single vessel design, the typical system configuration is a "Lead-Lag" piping arrangement that allows for:
Longer runtime and higher efficiency
25-50-75% bed depth sample taps for analysis of the Mass Transfer Zone
Stainless Steel underdrain construction that follows the bottom contour of the vessel to reduce overall height
Easy media replacement via center bottom head sluice connection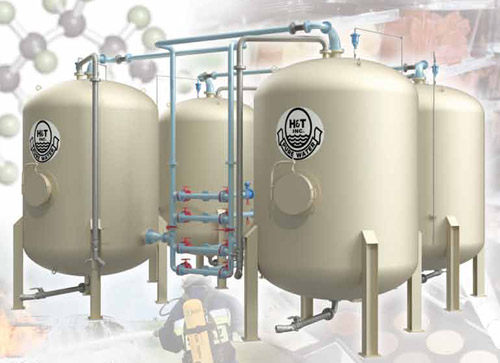 The GAC & Ion Exchange PFAS removal process is a "once through" system, meaning the media is used until exhaustion and then replaced.
In order to reduce cost and improve efficiency it is paramount that the entire media bed participates in the adsorption process.
Conical bottom designs have poor flow distribution profiles and inherent hide out zones that impact performance.
H&T's "Dropdown Strainer" design utilizes maximum vessel volume for 100% media utilization.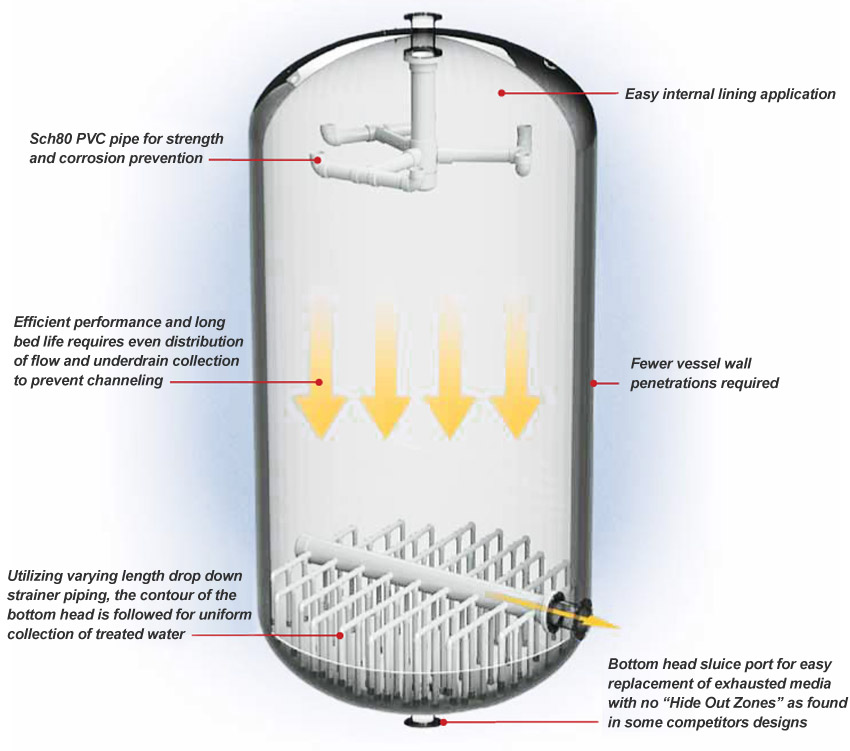 H&T has a long history as a respected contributor to the water treatment "think tank" in developing water treatment methodology. If you have further questions regarding PFOA/PFOS removal, please call (856) 881-3200 or use our formulario de contacto..